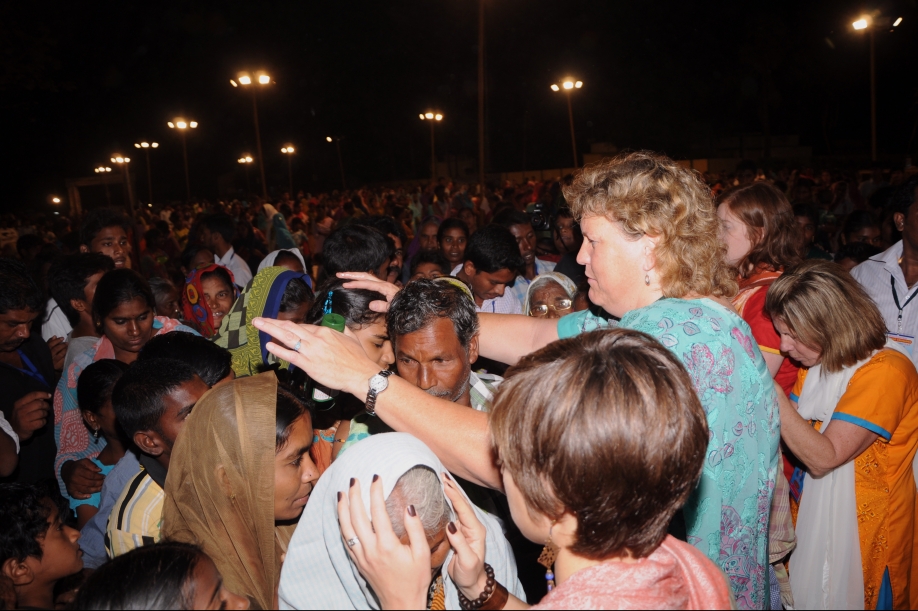 India 2015
Date: November 4, 2015 - November 6, 2015
Rev. Betty Davis, Donna Hurd, Sarah Crizer and Lael Moreland held a three night crusade in Chintalapudi, India in November 2015. There was a tremendous move of the Holy Spirit and 45,123 people came to Christ. The services were recorded and have been played in the villages, seeing more than 15,000 additional souls come to Christ. We received many testimonies of the Lord healing people and setting them free from idolatry.
Betty Davis Ministries purchased 10,000 Bibles to distribute in the crusade in the language of Telugu.
We also donated funds to the Hope Children's Home to help children in this area receive a Christian education.
Testimony from the India Crusade:
Petta:
"I am a prostitute and people in the village see me as a bad woman. I have no income
source, but I came to the crusade, and you told about Jesus and the woman at the well, which
changed my heart and I realized Jesus can still forgive me and I saw the presence of Jesus
and His light has fallen on me. I accepted Jesus. I will never go to my old profession at all,
and please pray that I would find a small business to survive myself and my family."
Petta UPDATE: I contacted the pastor after I saw this testimony
and we wired enough funds for Petta to open a small grocery
store in her village to support her family. Thank God, she will
not have to go back into her old lifestyle again!
[
back
]