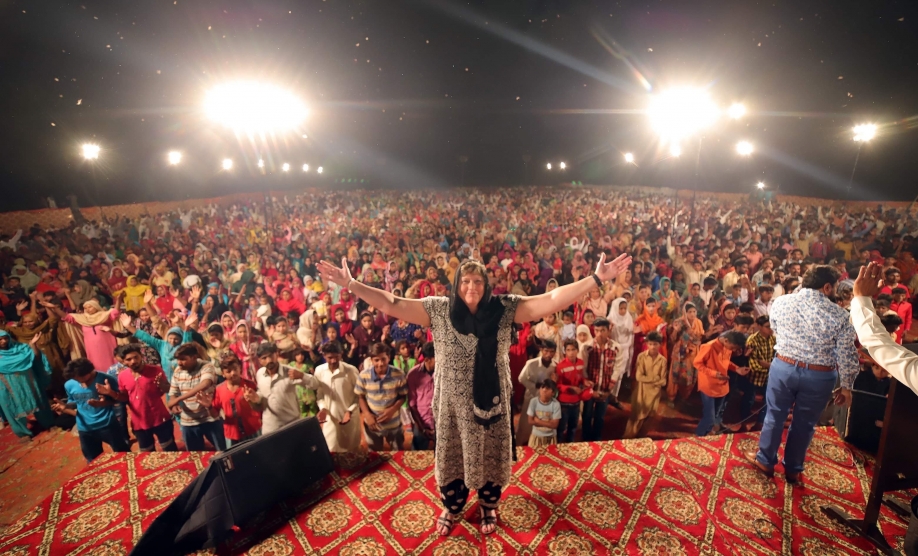 Pakistan 2019
Date: May 2, 2019 - May 4, 2019
Betty Davis traveled to Pakistan in May 2019 and preached a three-night crusade in a freshly harvested wheat field. 230,000 stood to receive Christ! Many were healed and delivered in the evening setvices.

Betty met with the leadership of Good Shepherd Home and provided blankets, clothes and shoes for the children that were orphaned in the Easter terrorist attack on Christians in 2016.

Betty was invited to tour a new Christian TV station in Lahore on this trip. They are now airing Christian services 24/7 in Pakistan. This is truly a miracle in this nation.

Betty was amazed at the church that has been established in Lahore. They have seen so many people come to Christ in the crusades and through personal evangelism that they have 50,000 people attending church each week. They have multiple services each day to accommodate the Christians coming to worship. She has seen the face of the nation begin to change. They have pastors in the church praying for people daily that walk into the church. They also have a phone line for people to call in for prayer. There were many people that had come in off of the street for prayer when she visited the church on a Saturday morning.

We were able to help with our first church plant in Pakistan this year. We provided funds for the flooring to complete a new church in Kasur City close to our 2019 crusade site. We also held our first crusade in Kasur City in 2011.


[
back
]